On November 30th, An America United is putting together The 2022 Governor's Celebration — a huge event for us to all get together and celebrate Governor Hogan's accomplishments over the last eight years. Having you there is very important to Governor Hogan and the team here at An America United. There will be live music, drinks, and tons of fun. 
The Governor's Celebration will be at Maryland Live! Casino on November 30th, 2022. Below is the formal invitation with more details for the event.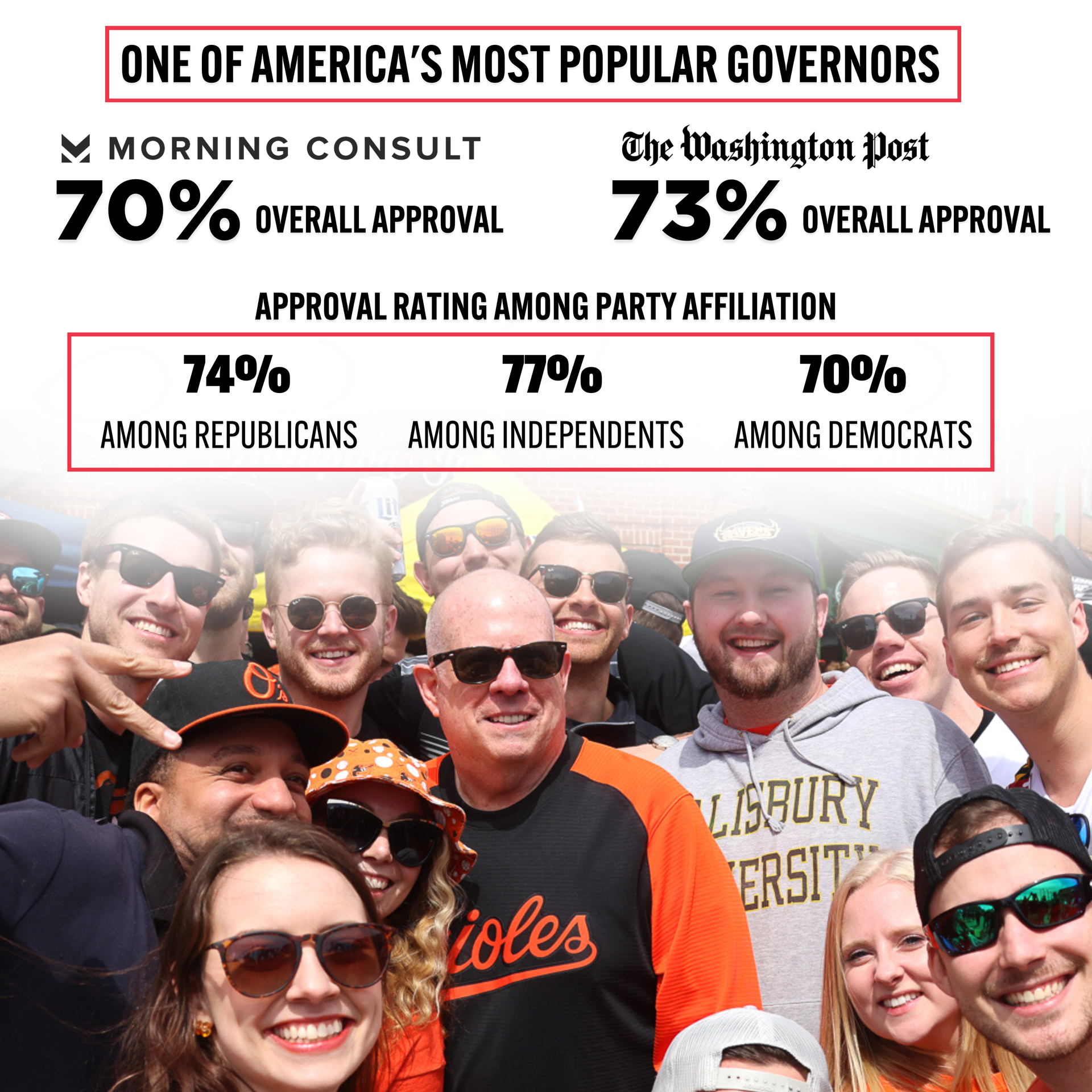 A new poll affirms that Americans are hungry for leaders who put results over party loyalty and performative politics. According to Morning Consult, three of America's most popular Governors are Republicans who have governed as common sense conservatives in historically deep-blue states, including Governor Hogan, who maintains an eye-popping 70% approval rating from Marylanders.
This comes as President Biden and President Trump continue to maintain historically low approval ratings across the country.
According to another recent poll from The Washington Post — University of Maryland, Governor Larry Hogan "is poised to leave office in January with the highest approval ratings of any governor in the two decades." In this hyperpolarized age, Governor Hogan has proven that there is a better path forward than the divisiveness and dysfunction of our national politics.
Governor Larry Hogan continues to be a national leader on reducing barriers to good paying jobs. Earlier today, he announced a first of its kind in the nation $15 million Jobs That Build Initiative to eliminate real-world barriers to careers in infrastructure through enhanced recruitment efforts, smarter training, and enduring employee retention. 
Last week, An America United released a national proposal on how to expand career opportunities outside of a four-year college degree modeled based on what Governor Hogan has already achieved in Maryland, including achieving a record milestone of 12,000 apprenticeships statewide and eliminating the four-year college degree requirement for thousands of state jobs.
In a Wall Street Journal op-ed outlining the proposal, Governor Hogan wrote, "We must reorient the education system to fit the economic and cultural needs of the 21st century. A patriotic and skilled workforce, unencumbered by unbearable levels of debt, will allow the U.S. to compete with China and other adversaries while defending the values of the American founding."