In late May, I shared a public safety update that previewed the investments that the District will make in gun violence prevention and crime reduction initiatives in the upcoming fiscal year. Over the last week, I've heard from many residents concerned about public safety since the reporting of the senseless killing of 6-year-old Nyiah Courtney and the shooting near Nationals Park, as well as violence closer to home in Ward 1. I know that each and every occurrence of violent crime impacts entire communities and District residents. I want to share another brief update on the District's efforts to reduce violent crime.  
The Council, Mayor, and agencies are working together to not only get through this alarming spike in violence, but to achieve long-term results and better public safety outcomes for all residents. With local and federal funding, the District will invest more than $214 million in gun violence prevention and related services over the next four years. 
By now, most residents know that the District has invested millions into violence interruption efforts over the last few years. I work closely with violence interrupters in Ward 1 and some of the surrounding wards. While we can't track every interaction that they have with community members, we have seen a positive impact in the areas where they are present. Right now, violence interrupters are only in a few neighborhoods because the program takes a very targeted approach so that the trained violence interrupters can build meaningful relationships with the communities they serve. I've successfully fought for funding to increase the number of violence interrupters in Ward 1, but we need to continue to expand prevention efforts. In this year's budget vote on Tuesday, the Council approved a significant increase to the Office of Neighborhood Safety and Engagement's budget. The agency will operate with a $28.2 million budget (a 172% increase) and lead critical prevention programs. This includes the Pathways Program, a transitional employment program working with residents most likely to commit or be a victim of gun violence. We approved funding for a major expansion of the Pathways Program. This is an important investment because research suggests that 80% of all local violence is caused by less than 2% of the population. If we can get people to stop picking up guns, we will have safer neighborhoods.  
There are many more programs and initiatives that are being stood up, implemented, and expanded including community grants for neighborhood action plans, workforce development programs, youth safety initiatives, trauma-informed mental health services, recreation opportunities and capital investments. The work we are doing requires working together as a government and leveraging resources across our agencies.  
I want Ward 1 residents to be able to hear directly from the officials in charge of implementing these strategic programs and have the opportunity to ask them questions. I have invited Deputy Mayor for Public Safety and Justice Chris Geldart, Gun Violence Prevention Director Linda Harllee Harper, and Director of the Office of Neighborhood Safety and Engagement Del McFadden to speak to Ward 1 residents about the implementation and execution of these programs and the District's overall strategy to reduce crime. I hope you can join us on July 29 at 6:30pm at the YMCA Anthony Bowen, 1325 W Street, NW. The event will be held on the outdoor terrace. We are also providing virtual options. You can register for the zoom option here or watch on Facebook at www.facebook.com/BrianneKNadeau.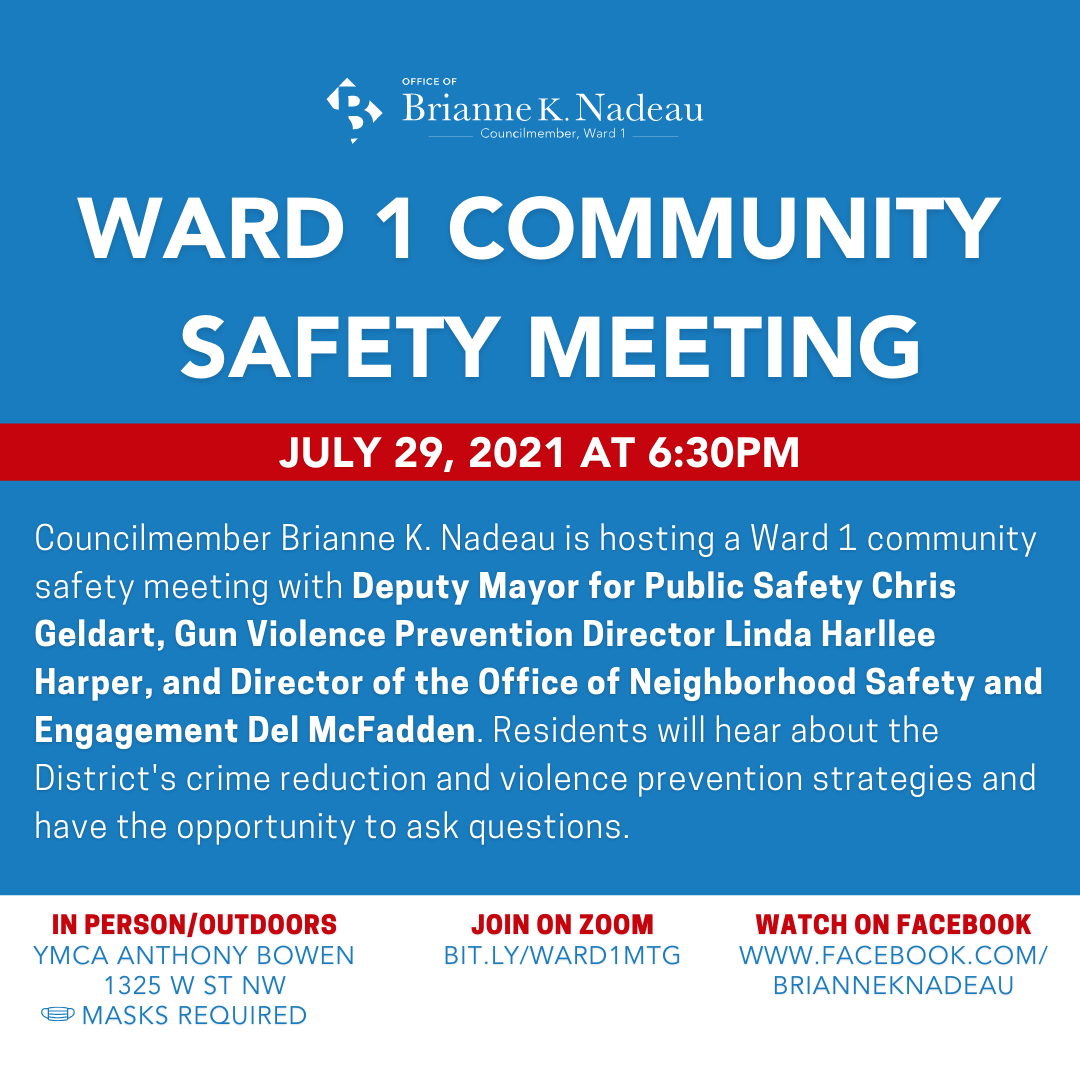 The District is also working with our federal partners, who have been responding to an increase gun violence across the country. Last week, the Mayor met with President Biden and U.S. Attorney General Garland to discuss the District's crime reduction efforts and to advocate for federal support and assistance. While we have some of the strongest gun laws in the country, DC does not have control of the courts that prosecute our gun cases. So, I was grateful to see that Mayor Bowser advocated for more autonomy over our judicial system and that the District was recently chosen for a pilot program that will address the illegal flow of firearms across state lines. The District is also partnering with the Bureau of Alcohol, Tobacco, Firearms and Explosives (ATF) and other federal officials to increase ballistic intelligence. I've worked over the past several years to strengthen our gun violence prevention laws here in the District. But even so, the majority of the gun violence we see in Ward 1 (and the District) is related to illegal firearms. I was hopeful when Virginia tightened its gun sales restrictions, as they had been a major source of gun trafficking into the District, but we still need to address the inflow from other states. I've been working on this issue since before my time on the Council and have long called for federal action to complement the work we are doing locally. 
I want to reassure you that I continue to prioritize public safety hope to see you (in-person or virtually) at our Ward 1 Community Safety Meeting next Thursday.